Book 3 name and artwork revealed!
After much deliberation , the title of the final instalment of 'The Eyes' trilogy is: 'The Unforeseen Children Of Olive Shipley'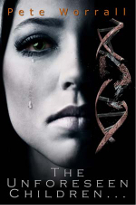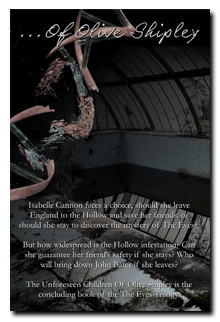 "It's a bit of a mouthful," said Pete, "but I really liked the rhythm and the mystery surrounding it. It took a couple of nights to put the artwork together but I think it looks really good and the black colour is in stark contrast to the white of The Doom Of The Hollow. After the great reaction to the swimming pool photographs I took while on a scouting mission to Rixton Old Hall, I decided to put it on the back cover, edited to the nth degree though.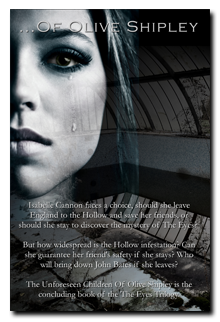 The update on part 3 is that I am past half way in the story although I don't know what that means in regards to word count. I guess the word count will be whatever it ends up being. (how very vague. Current count is 68,000)
More news